[MBS methods] [Health fund fees] [Fund co-payments] [My Own fee] [ASA RVG methods] [DVA time-based method] [Discounts] [GST]
We recommended that you always start your account by inserting MBS items so that a Medicare schedule fee can be calculated and approximate patient rebates determined.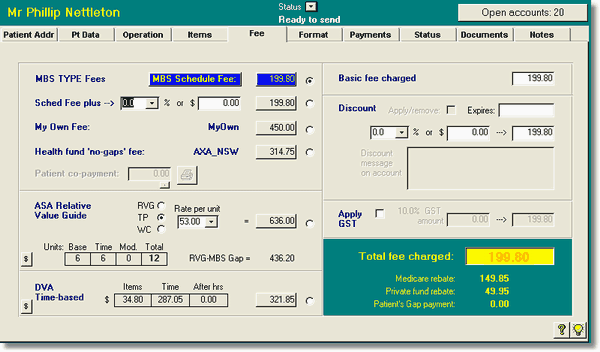 When items are added to or removed from the list of items on an account, the MBS schedule fee, DVA fee and RVG item calculations are updated to reflect the change.
Select one of the 6 radio buttons

to specify the fee you wish to charge (more information below). If required, set a discount and GST. The large red-on-yellow Total fee charged field on the bottom right is the fee which will appear on the account. The expected MBS and standard private health fund rebates will be shown on the screen (not the printed account) underneath the fee (for account types where patient rebates are anticipated).
The fee which is initially selected is most often the MBS schedule fee. The Account type is determined by the fee selected according to the following scheme:
| | | |
| --- | --- | --- |
| | SF | MBS schedule fee |
| | SF+ | above schedule fee |
| | HCF | Example health fund account type. The account type is given the name of the health fund. |
| | MyOwn | My Own fee |
| | RVG | RVG using user-defined rate |
| | TP | RVG using TP rate |
| | WC | RVG using WC rate |
| | DVA | DVA time-based fee |
If the fee selected is not the one you wish to charge, select your preferred fee after making any adjustments as described in the individual fee type sections below.
In the following situations, the default fee will not be the MBS schedule fee:
| | |
| --- | --- |
| • | When a health fund fee is selected on the Items page, if the account is currently deemed an SF account, the fee will automatically be changed to the health fund fee. If the fund fee is turned off on the Items page when this is the fee on the account, the account fee will revert to the MBS schedule fee (SF). |
| | |
| --- | --- |
| • | When the MyOwnFee button is clicked on the Items page, if the account is currently deemed an SF account, the fee will automatically be changed to the MyOwn fee. If MyOwn fee is turned off on the Items page when this is the fee on the account, the account fee will revert to the MBS SF. |
| | |
| --- | --- |
| • | When the first item is added to the RVG or DVA tab on the Items page, if there are no other items on the account, the fee is set automatically to the RVG or DVA fee. (TP or WC can then be selected on the Fee page if required.) Removing all items from the RVG or DVA page when the fee is set to one of these will cause the fee to revert to SF. |
| | |
| --- | --- |
| • | The above items procedures will only set the account fee if it is currently set to the SF. If the fee has previously been set to anything other than the SF, the fee will not be changed, and this can be done manually on the Fee page if required. |
| | |
| --- | --- |
| • | The account type is shown on the Items page for reference while manipulating items, and a message is shown if the account type is changed automatically. |
| | |
| --- | --- |
| • | When the Items page is opened, it automatically opens on the tab appropriate to the fee type. |
| | |
| --- | --- |
| • | Generally speaking, total fees are rounded to the nearest 5 cents. |