The Pt Data page records additional information on the patient, his fund membership numbers and so on. All the entries on this page are optional, although some will be required for specific account types.
It is possible to record data on this page without having it appear on the account by unticking the checkbox next to the relevant item. Defaults for these checkboxes can be set up in the system Options on the Account Format page.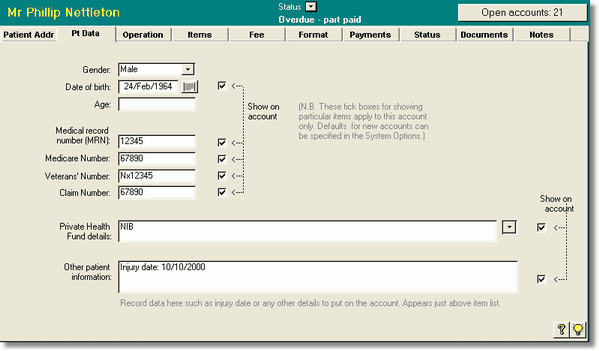 This field is simply for your own record. It is usually completed automatically depending on what you specify in the Title field on the Patient Addr page.
If you enter the date of birth, the patient's age is calculated automatically when you enter the operation date (on the next page). If either is blank, the age will also be left blank. In this case, you can enter a specific age into the Age field (you might do this if the date of birth is unknown). If you do enter a specific age, and you later enter a date of birth, the specific age you entered will be replaced with the age calculated from the date of birth and operation date.
The Medical record number, Medicare number, Veterans' Affairs number, and an insurance Claim number may be entered in the appropriate fields, and will appear on the account if checked.
Details of private health fund membership may be entered. A lookup list is provided to streamline entering health fund information but the field is not restricted to this and any data such as membership number or cover type may be entered. The data recorded in this field does not have any effect on the fee selected and, in particular, will not specify that a particular health fund's fee should be used. The lookup list may be customised by selecting <EDIT LOOKUP LIST> from the list itself.
This field can be used to enter any patient-related information for which there is no other appropriate field. The details will be printed on the account just below the hospital name. Use this field to record items such as injury date. Since the field is not labelled, you need to say what it is, e.g. Injury date: 10/02/2001.