Use the To-Do List to enter any tasks you want to keep track of. These may be accounts which need updating, people to contact, instructions for your secretary or yourself and any other things to do.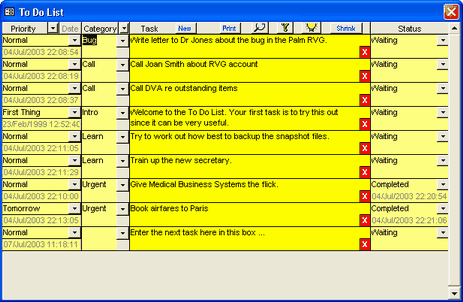 Each task may be given a priority, category and status. You can choose these from the list, or just type what you like to enter a new priority, category or status into the appropriate field. If you do enter a new item into a field, it will then appear in the drop-down list.
Sort the items by clicking on the column heading. You can also filter the items (only show those in a certain priority or category) by choosing from the list box in the heading of the Priority or Category column.
The date shown on the left is the date the item was created. You can sort using this as well. The most recent entries will initially be at the bottom of the list. When you set the status of an item to Completed, the date completed will be inserted automatically on the right under Status. Or you may prefer to simply delete completed items by clicking the white-on-red cross.
Print the entire list by clicking Print. A preview is shown first.
Click the Shrink or Expand button to show less or more of the window as you prefer (you may also set this as a default on the Miscellaneous page of the Options form). Click the magnifying glass button to zoom the message text in a larger window.