Multiple provider versions of Access Anaesthetics include the Group practice summary report. This is a dynamic report which allows you to quickly get summary information on the payments received by an entire group.
Select the report from the Summary Menu to open the dialog box.

Modify the selection criteria as you wish then click the View data button to display the results.

The defaults are set up to provide the most likely set of criteria for performing a daily summary for the current day's activity.

The result will be a datasheet showing the breakdown requested.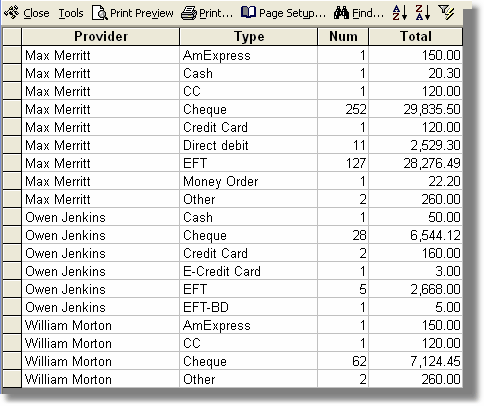 While the report is on the screen, the dialog box will remain open to enable you to dynamically change the criteria and requery the report. This allows you to easily adjust the output to what you require. Print the report using the toolbar icons.
By specifying different date ranges, doctors and payment types, you can create a summary of virtually any payment data.