From July 2019, the defence contract was taken over by BUPA.
A contract for the provision of medical services to serving Australian Defence Force personnel was negotiated by Medibank Health Solutions in 2012. Details of this were mailed to providers in September 2012. Providers were invited to sign a contract to use the new arrangements, which commenced on 28 October 2012. The ASA has since negotiated with Medibank Health Solution on the terms of this contract, and a modified contract will become effective on 1 May 2013. The new contract provides for a fee for anaesthetic items of $55 per RVG unit. The fee for items without a unit value has not changed (consults, nerve blocks etc).
The ASA is unhappy with a number of aspects of both contracts. Their remarks can be seen on the ASA website.
If you have not signed the contract, defence advises that your invoices will still be paid (at whatever rate you charge) but that you will gradually receive less referrals in preference to providers who have signed the contract. It is unclear how this will affect anaesthetists who have not signed the contract, but who work for surgeons who have.
If you have signed the contract and wish to use the system, Access Anaesthetics is set up to do this. Effectively you just need to create a new address in your addresses lookup table, and set the fee schedule to the new ADF schedule.
| | |
| --- | --- |
| • | Click Tools > Edit lookup tables > Addresses to open the addresses lookup table. |
| | |
| --- | --- |
| • | Click the <New> button and add the details as shown below. If you have signed the contract, you should have received additional information including the address to which accounts should be mailed. |
| | |
| --- | --- |
| • | In the 'Fee schedule ...' box, select 'ADF'. |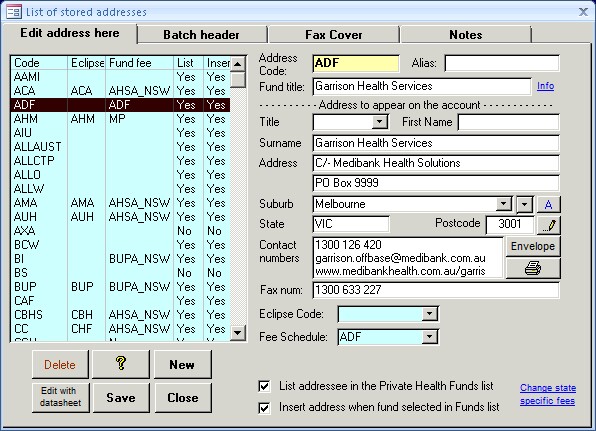 When you create your accounts, enter ADF in the Private fund field on the Fund page, and the ADF fee will automatically be entered when you add items to the account. This works in the same way as any other health fund account which uses a gap-cover fee. Please refer to the Medibank Health Solutions information for any other specific requirements for accounts.
When you enter items, AA will automatically select the correct fee based on the date of service for the individual item. The new $55/unit rate will be inserted when the item date is 1 May 2013 or later.
Note that there is no provision for electronic claiming with this system.