From July 2019, BUPA will assume management of healthcare services for Australian Defence Force personnel. Previously this was managed by Medibank Health Solutions.
In Access Anaesthetics there are now two ADF fee schedules:
ADF Used for pre-July 2019 procedures to be managed by Medibank Health Solutions (Garrison Health)
ADF_BUPA User for post-July 2019 procedures, managed by Bupa.
When creating an account for a procedure on a defence patient after July 2019, use the ADF_BUPA fee schedule.
Clients may have an address set up in AA to manage the previous ADF fee schedule. A new one should be set up for the new Bupa scheme. To do this, go to your addresses lookup table and create a new entry with the following details ...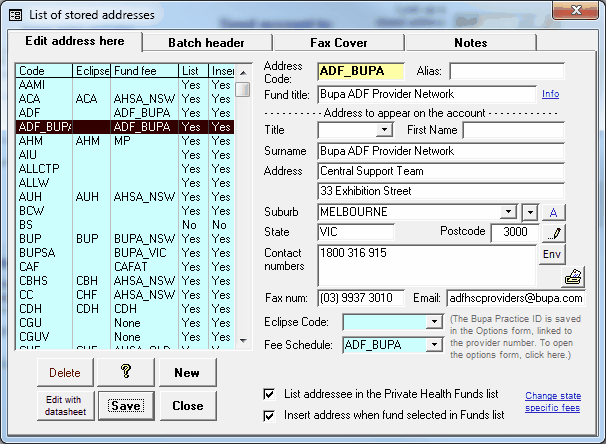 The email address is adfhscproviders@bupa.com.au
When you select the new ADF entry on the Fund page in AA, the ADF_BUPA fee schedule will be used by default on the Items page.
Registration and invoicing methods
Invoices for defence personnel should be submitted using Bupa's online gateway, iRBS. Details are available at the links below. Invoices may also be mailed or emailed.
All providers who are currently registered with BUPA will have received an email with a link inviting them to register as an 'ADF recognized provider' and to become part of the Provider Network. Once registered, providers will have access to the IRBS Portal (Intelligent Referral Booking System) where all claims can be lodged. Invoices created in Access Anaesthetics can be uploaded as a PDF via the portal. Claims will then be processed and paid within 10 days (expected) and providers notified of payments via the portal. The payments can then be entered into Access Anaesthetics like any standard manual payment. Note that there is no online Eclipse-like system to manage claims directly from within AA.
Providers DO NOT have to register to be part of the ADF provider network in order to be paid and they will not be penalized as such. If they choose not to register they will not have access to the IRBS, but can still make a manual claim via fax (03 9937 3010) or mail (ADF, Central Support Team, 33 Exhibition Street, Melbourne, VIC, 3000). There is no need for a batch header as long as all details are on the invoice. BUPA Payee IDs need to be documented on the invoice and this is done automatically in AA. Manual claims processing time is expected to be approximately 4 weeks.
Note: Patients who are members of the health fund 'Defence Health' are not part of the above scheme, and are covered under the AHSA group.