In 2011, there have been a few problems with claims that include a diagnostic imaging (DI) item.
Where a DI item such as 55130 or 55054 appears on the same account as other procedures, DI rule C applies, which reduces the fee for the DI item by $5.00. Access Anaesthetics calculates this automatically. Unfortunately, Eclipse occasionally processes the DI item first without applying the rule. Then, when the other items are processed, the $5 is subtracted from a different item, commonly the 17610 or 20560.
This becomes a problem where the health fund is one of the Bupa funds, where there is no tolerance in the fees charged. The result is that Bupa rejects the fee for the item which has had the DI rule applied as it is not within 5 cents of their expected fee. A typical processing report is shown below.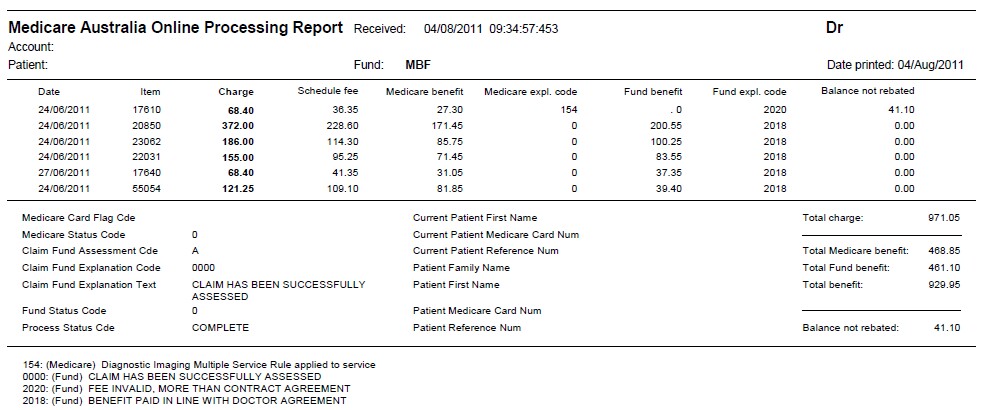 In this example, the DI rule was applied to the 17610 instead of the 55054. The result of this is that the fund did not pay their component of that item.
We have found that calling the fund will allow you to arrange for a top-up payment for the missing item. However, because of the way the DI rule is applies, this will not be quite as much as the amount charged.
We have discussed this issue at length with the Medicare technical support team and they are investigating it. However there is no estimate of when a solution will be available. In the meantime, you may consider whether to send claims manually to Bupa funds where a DI item is involved.